If you are looking for Dayport from the original Thief series you can find it here.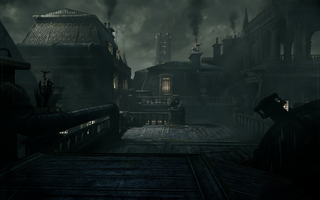 Dayport
is the rich district of 
The City
. It is maintained from the original Thief series.
Known locations
Edit
Dayport Rooftops
Carlysle Court
The Keep

Waterfront
Pipeline
Engine Level
Boiler Room
Elevator
Prison Level
Safe Chamber
Safe Housing
The Story Mission: A Friend in Need, has some similarities to the mission A Life of the Party in Thief II. Both occur in Dayport, and have Garrett cross the rooftops to get to main objective. Infact Garret begins near a bell tower that looks vaguely like the one where Garett begins in Thief 2. The Keep makes an opposing tower in the distance, much like the Angelwatch tower.
A map listed as Dayport: District of Auldale can be see in the A Friend In Need level on a table in the guard room Garrett runs through mid-level. This is the same map seen in the trailer. The final release of the map "The City: District of Dayport" is seen on Basso's table in the game.
Ad blocker interference detected!
Wikia is a free-to-use site that makes money from advertising. We have a modified experience for viewers using ad blockers

Wikia is not accessible if you've made further modifications. Remove the custom ad blocker rule(s) and the page will load as expected.