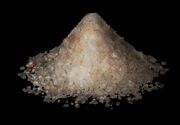 Grinning Salt is a trinket available for purchase in Thief. 
Grinning Salt increases the health benefits of eating foods and costs 375 gold to purchase.
Ingame Description
Edit
"Since the lockdown and trade restrictions, food in The City needs all the help it can get. With cured meat being the only practical thing on the menu considered safe to eat, Grinning Salt puts a new spin on an old taste. The name comes from the expression attained upon first taste. Less a grin. More a grimace.
Increases the health benefits of eating food"