This is a mapping project for the new City in the Thief reboot.

Based on this map:
Dayport Map
Edit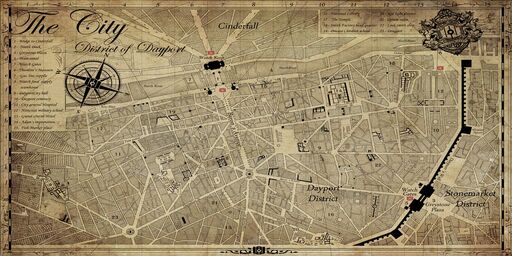 Dayport District map on Basso's table. Full png
Note this is similar to the "Auldale/powercity" map show in a trailer, because it is the same map correctly labeled and orientated as Dayport/Cinderfall.
Items labeled on the Dayport map:
Bridge to Cinderfall
North Dock
Greystone Plaza
Main canal
Watch Gates
Theodore's Mansion
Gas line supply
Watch food supply warehouse
Dayport City hall
Dayport cemetery
City general Hospital
Northcrest military school
Grand central Hotel
Adam's importation
Fish Market place
National Library
The Temple
Smith Factory head quarter
Private Children school
Red light district
Opium salon
Locksmith shop
Druggist
Other labels:
The City
District of Dayport
Cinderfall
Watch Keep
North River
Tree point - near 11
Baron's Avenue
Dalair? Street near 18
A???? Square near 10
H??? Street near 14
Dayport's Wall
Stonemarket District

In-game maps
Edit
see: Category:Map Images
unknown